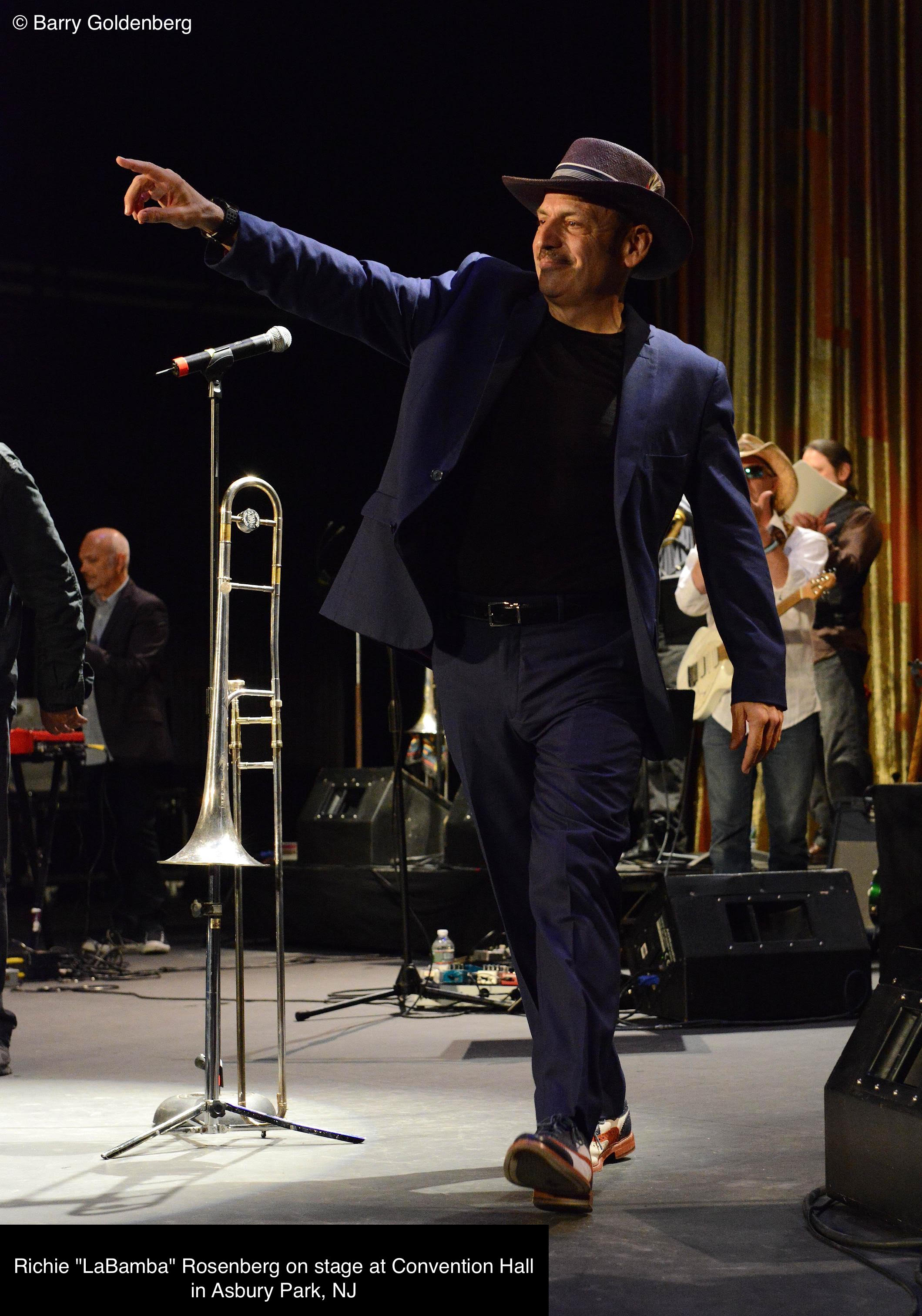 In a career spanning over 30 years,
Philadelphia born Richie "LaBamba" Rosenberg has brought his trombone, voice, and personality to the world of music and television. He's toured and recorded with influential artists such as Bruce Springsteen, Southside Johnny, Little Steven, Jon Bon Jovi, Diana Ross, Dave Edmonds, Ricky Martin, John Mayall, Darene Love, Jessica Simpson, and Joe Cocker, to name a few. Currently LaBamba is enjoying his 24th year on late night television with Conan O' Brien, playing trombone as a member of the Basic Cable Band on CONAN. In addition, he has been featured in a myriad of comedy sketches, such as "In The Year 2000", as well as developing a respectable cult following in the process.
LaBamba's musical roots stem from a musical family that all sang and played piano, a jazz enthusiast for a step father, and an influential high school band director. After high school he spent much of his time in bands playing the sounds of Philadelphia Soul and Rock 'n' Roll. In addition to performing, LaBamba has also made a career of orchestrating and arranging music.
Highlights of LaBamba's career include, recording the album, Grapefruit Moon: The Songs of Tom Waits featuring Southside Johnny with LaBamba's Big Band, playing the Super Bowl XLIII half time show with Bruce Springsteen,, and performing by request of Jon Bon Jovi, at the White House for the televised Special Olympics All-Star Gala. Out of his many achievements, the biggest thrill of his career was being asked to perform with his Big Band and Southside Johnny on Late Night with Conan O'Brien. On the topic he's said, "to be a guest artist on the same show that I play for on a nightly basis was a dream come true."
Outside of his work, LaBamba enjoys his spare time with his wife and their five children who support him in all of his work ...and sometimes try to get in on the action themselves.